I've had this post lined up for a while, I first saw and heard of The Color Club Halo Hues collection in an international giveaway. From that point onwards it took me weeks to find a UK supplier as this particular collection is very popular firstly I couldn't find a UK stockist then I seen the full collection on eBay for a crazy price and I was like NO WAY! Option to buy these in the UK has started appearing more now to be honest. At the time I found a UK stockist it felt like I'd accomplished a huge achievement and to be fair they are selling these at a very decent price of £6.50 so if you want to get your hands on some click this
link
I will warn you each week the lady stocks these she has sold out days later!
So I did a beauty box swap recently you can view the post
here
and I have a picture with swatches of some of the items where you can slightly see my nail with this varnish on, loads of people noticed it and liked this nail varnish. I had a mani design in mind for some time and also seen a guest post on
Mez's blog
, with the similar design. Anyway I thought I'd do a mani to show the Color Club nail varnish.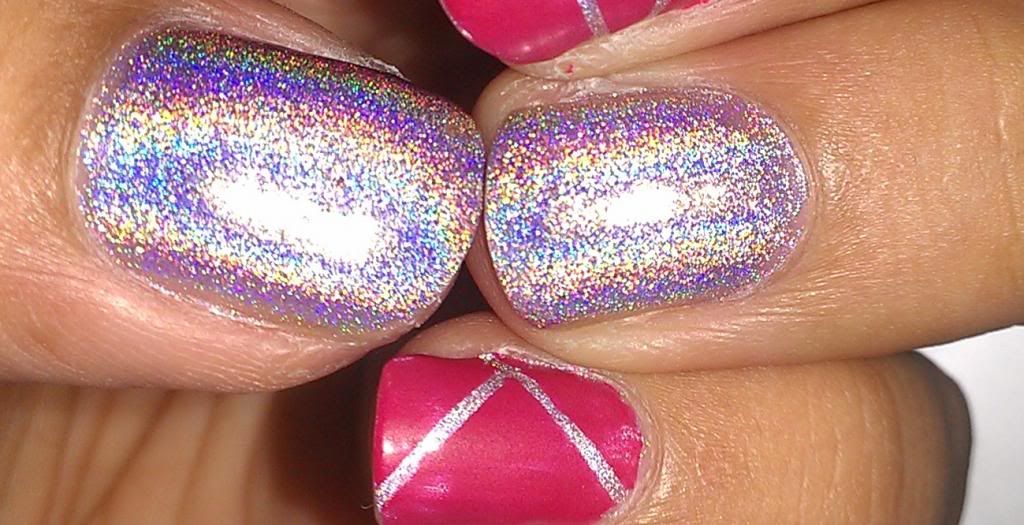 Just look how holographic this nail varnish is!
Natural daylight
With flash
For this mani I painted all my nails in the Halo-Graphic shade from the Color Club Halo Hues collection, I then taped my nails with nail decorating tape in no specific design I didn't do my thumb and third finger just so I could show off the Halo-Graphic nail varnish. I went over the fingers I had taped with NYX Matte Rose shape, I thought it would be great to have total opposites and to be honest this pics don't do the mani justice.
I hope you enjoyed this post, I'm new to nail mani's so would really appreciate any feedback =] xx