Hey peeps, I'd never heard of Daniel Sandler until I joined Twitter and as time has gone on I have realised he is looked at up to like a make up guru and seen how popular he's Water Blushers are through reviews, mentions and tweets
Many times I stopped myself purchasing hmmm'in and ahhhh'in but then recently he had a 10% sale off and you know I'm a sucker when it comes to make up. I watched a video on how to apply the Water Blusher and took the leap to order. Not only did he have the 10% off but with the charm blusher he was giving the Water Blusher brush worth £15.50 for free, they were also donating a certain amount from every purchase towards Moon and Stars charity which raises funds for the Cancer Research UK Charity. So I ordered the set and did a good deed at the same time hehe. I must say this, Daniel Sandler himself is an amazing and nice guy, he interacts directly with his fans which I think is amazing customer service and now whenever the name comes up I have a warm feeling to the brand and guru himself.
Delivery was fast, items came in a clear plastic bag with a lovely note.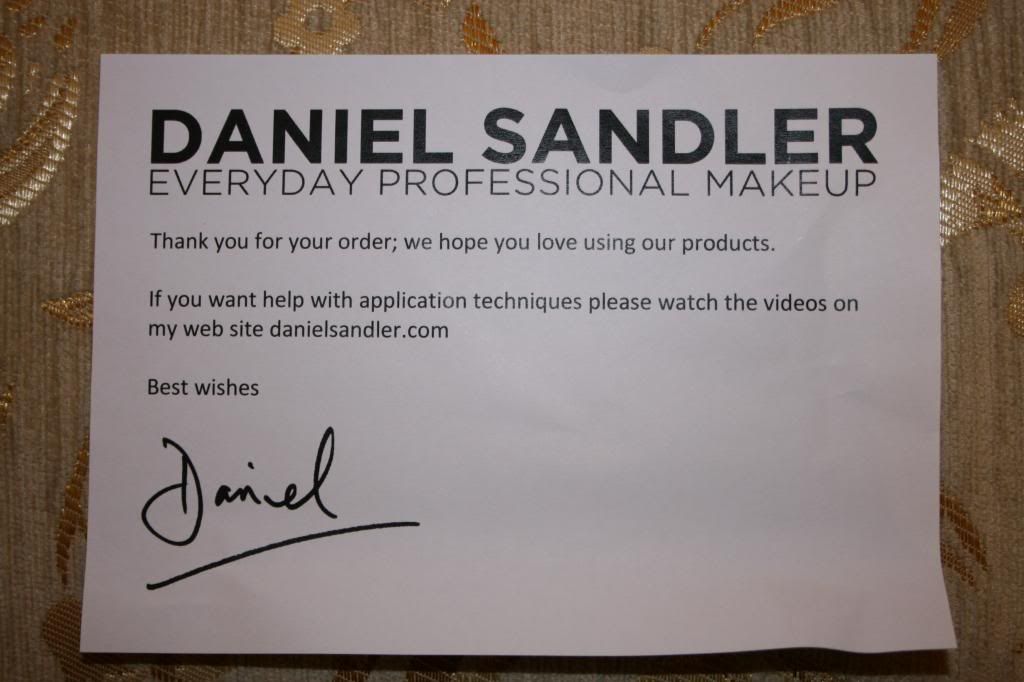 What Daniel Sandler says about this product:
Daniel's cult Watercolour Fluid Blusher has been designed to flatter every skin tone and is available in a plethora of colours. 100% blendable and water-resistant, this long-lasting super versatile product quite simply washes over the cheeks, creating an instantaneous, wearable flush. Whether you wear base or not Watercolour should be a staple in every woman's make up bag!
What I think:
I can agree with all the above the flash has taken the pigmentation away and the picture doesn't do the blush justice but you definatley only need a drop I applied too the blusher builds really well and leaves a sheer tone-healthy glow finish. Very happy with this product the brush is amazing quality too it is rather flat than round and fluffy and is the perfect shape for contouring since using it with the watercolour fluid blush I now use it to apply all my blushers, it is beyond amazing and brilliant for contouring.
It is definatley worth checking his videos and you can pick up some great tips, I'm wanting to try the creme bronzer next.
Here's the
link
to his website and you can also follow him on Twitter @danielsandler